Brick Breaker 3D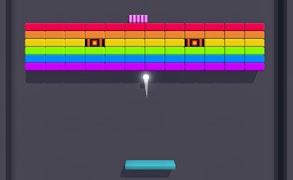 Brick Breaker 3D
Unveiling a fresh take on the arcade genre, Brick Breaker 3D proves to be a feast for the eyes and an exhilarating roller-coaster ride for the fingers. Infusing a vibrant mix of ball and block games, this skill-based gaming marvel is not just about breaking bricks, but also breaking records and expectations.
The game greets you with its seamlessly designed levels that keep your adrenaline pumping and your eyes glued to the screen. At its core, Brick Breaker 3D is a classic example of arcade games, but with an exciting twist. It introduces power-ups that are smartly layered onto the novel gameplay, creating a perfect symphony of excitement and challenge.
A big nod goes to the creators for producing one of the most compelling Skill Games that are as familiar to play as they are hard to master. The game gradually elevates its difficulty, throwing unexpected obstacles at you in every level. It's like trying to hit a moving target whilst running on a treadmill.
No matter if you're new to the world of arcade games or an experienced breakout hunter, Brick Breaker 3D provides endless opportunities to test your skills. In essence, it's more than just a block-breaking game; it's an exciting dance between focus, timing, and anticipation.
In conclusion, Brick Breaker 3D breaks away from tradition by adding an extra dimension not only in its graphics but also in its deeply engaging gameplay. If you're looking for a thrilling test of skill combined with classic appeal, dig no further - Brick Breaker 3D is your game!
What are the best online games?