Bouncing Bird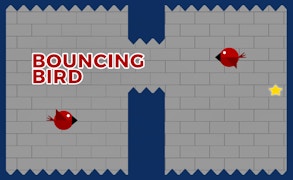 Bouncing Bird
Description
In Bouncing Bird, you control a nimble bird with the mission to soar high above the ground, dodging dangerous spikes and gathering twinkling stars. The intensity increases as your bird ascends higher into the risk-filled sky, pushing your reflexes to its limit. This arcade style game will challenge your skills and delight your senses.
How to play
Playing Bouncing Bird is straightforward yet challenging. You can click your mouse or tap the screen to make your bird leap upward, skillfully avoiding the spikes and collecting the stars. Remember, one wrong move can result in a fatal encounter with the spikes!
Tips and Tricks
The key to navigating in Bouncing Bird is perfecting your timing. Make sure not to click too soon or too late when approaching a spike. Try collecting as many stars as possible for a higher score, but remember, safety comes first!
Features
Arcade-style Gameplay: Engage in fun and fast-paced gameplay that tests your reflexes and timing skills.
Skill-based Scoring: Earn points by gathering stars and surviving against spikes for as long as possible.
Addictive Mechanics: Simple yet compelling game mechanics that keeps you playing more.
Cute Graphics: Enjoy delightful visuals featuring a charming bird protagonist.
What are the best online games?