Boeing Flight Simulator 3D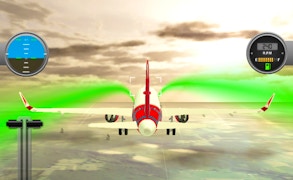 Boeing Flight Simulator 3D
If you are an adrenaline junkie with a passion for airplane games and swerve your gaming tendencies towards driving games, then the captivating world of Boeing Flight Simulator 3D is your new playground. This game pushes the boundaries of flying games sector in a way that gives even the most acclaimed simulator games a run for their money. As a fantastic fusion of Skill Games, this game demands not only precision but also cognitive quick thinking.
Boeing Flight Simulator 3D is not just another flight simulator. It is an immersive journey that switches you from casual gamer to a legit airplane pilot. This game sets its bar high, aiming to instruct gamers on the intrinsic arts of aircraft navigation - from safe ground take-off, maintaining sky-high stability, to masterful ground landing. The intoxicating feel of sliding into the pilot's seat and soaring into the open blue skies leaves an indelible mark on every player's mind.
The real gem of Boeing Flight Simulator 3D is its realistic controls. The steering fluidity with Arrows and mouse-supported options like acceleration, chassis release, and closure paint an astoundingly authentic flight scenario. The game's user interface maintains a balance between reality and playability, delivering a rich gaming experience.
The graphics have been carefully crafted to ensure every flight feels real – from the grainy feel of the runway under your wheels to the vast expanse of cerulean skies above. Every minute detail has been painstakingly replicated to offer you an unrivaled flying experience.
A truly remarkable addition to flying simulator games, Boeing Flight Simulator 3D demonstrates the extent to which simulator games can simulate not just actions but also emotions such as excitement, focus, and accomplishment. Come aboard Boeing Flight Simulator 3D where flying is more than just a game - it's unparalleled pleasure.
What are the best online games?