Bob The Robber 4: Season 3 Japan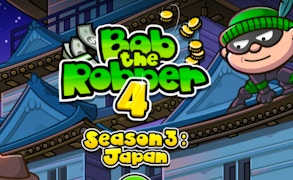 Bob The Robber 4: Season 3 Japan
Embrace the excitement of Adventure gaming with the unparalleled finesse of Bob The Robber 4: Season 3 Japan. A thrilling escapade through mysterious Japan, this game is intricately designed to challenge you with its hardest missions yet - a triumphant stride forward in the thrilling Escape Games genre.
The game sees our beloved character, Bob The Robber, venturing to the far east; taking on stealthy heists and mind-bending puzzles in an immersive gaming experience that surpasses its predecessors. The storytelling is as sharp as a ninja's shuriken, throwing you deep into intrigue and mystery that can only be unraveled by a master thief like Bob.
The game's design is simply stellar. It'll will whisk you through vibrant rooftops under Tokyo's neon glow, to ancient temples bathed in moonlight. The visuals serve to enhance the suspenseful rhythm of your daring escapes. And let's not forget about the beguiling soundtracks – they are like a gentle whisper in your ears that grows louder with every heartbeat as you plot your escape.
Adventure games enthusiasts are in for an addictive treat with Bob The Robber 4: Season 3 Japan. Each mission requires strategic planning, quick reflexes and a touch of rogueish charm to suceed - embodying the very essence of thrilling escape games.
If you are looking for an adrenaline-infused adventure soaked in mystery and danger, look no further than Bob The Robber 4: Season 3 Japan. This title will test your wits and agility like never before. So gear up gamers, it's time to embark on the most challenging missions yet! Good luck conquering them all!
What are the best online games?
TAGS