Bob The Robber 4: Season 2 Russia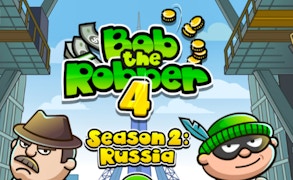 Bob The Robber 4: Season 2 Russia
Delve into the absorbing world of Bob The Robber 4: Season 2 Russia, a leading title in the genre of adventure escape games, designed to challenge both the brain and the pulse. This fresh installment adds a new twist with a Russian backdrop, enriched with intriguing puzzles, offering an entirely different experience well worth your time and attention.
Serving as a benchmark for suspenseful adventure gaming, Bob The Robber 4: Season 2 Russia takes you on a thrilling journey through this icy nation. It's a roller-coaster ride that will keep you on edge while also providing ample moments of triumph as you nail each escape.
The game's core design revolves around the concept of strategic escapism. As your avatar, Bob, tiptoes through various Russian buildings teeming with technologically advanced security systems and patrolling guards, your mission is clear yet challenging: Escape unscathed.
The detailing in each level is nothing short of phenomenal. Every nook and corner is functionally interactive, sparking curiosity while fueling the adrenaline rush synonymous with all top-tier escape games. From breaking encrypted codes to cleverly dodging security cameras - every hurdle brings you closer to that sweet triumph of evasion.
Bob The Robber 4: Season 2 Russia, it's fair to say, marks its territory in the adventure escape genre with its pioneering graphics, perplexing challenges and an engaging storyline that keeps gamers hooked from start to finish. A must-play for not only fans of escape games but anyone who savors a thrilling adventure.
What are the best online games?
Tags