Bluebo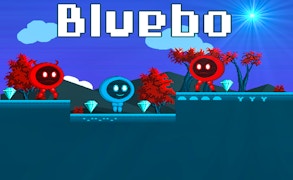 Bluebo
Description
Dive into the enchanting world of Bluebo, a captivating 2D platformer arcade game. Navigate through challenging levels filled with spikes and menacing adversaries, while on a relentless quest to gather all the gems. Victory is only achieved upon reaching the finish flag and overcoming all adversities. The game features 8 stimulating levels, each one offering its unique set of challenges and obstacles.
How to play
Master the controls for an engaging gaming experience. Use the WASD keys or arrow keys to guide your character's movement. For those hard-to-reach gems and tricky platforms, make use of the double jump feature, which can be activated by pressing "W" or "Up" arrow key twice quick succession.
Tips and Tricks
In this game, timing is everything! Ensure you time your jumps perfectly to avoid enemies and spikes. Additionally, learn to use your double jump wisely; it could be your saving grace when faced with larger gaps or higher platforms. Don't rush through the levels; take your time to strategize and plan your path.
Features
Sleek 2D design that provides an immersive gaming experience.
A total of 8 challenging levels, each with its distinctive trials.
The thrill of collecting all gems while evading enemies lends excitement and competitive spirit.
An easy-to-understand interface with simple controls suitable for all age groups.
The added complexity of double jumps spices up gameplay.
What are the best online games?