Blocky Snake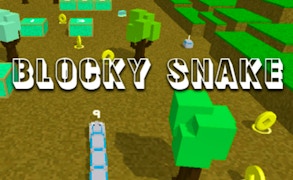 Blocky Snake
Take a trip down memory lane with Blocky Snake, a remarkable blend of classic block games and iconic snake games. This delightful hybrid is a nostalgic joy for arcade enthusiasts, delivering a riveting, fresh experience in the heart of the Hyper Casual Games genre.
Inheriting the best elements of its retro ancestors, Blocky Snake places you in control of a charming, blocky serpent. Your aim is to maneuver your way around a grid filled with tantalizing obstacles, break blocks to rack up scores, devour power-ups to extend your snake length, and gather coins to unlock sleek body types and captivating new environments.
The objective might sound simple on paper, but the twist lies in the agility and deftness required for swiftly navigating through the encumbrances using arrow keys or AD controls. So whether you're veering left or darting right, each decision matters – adding an edgy rush of adrenaline to this otherwise casual game.
Blocky Snake's gameplay is smooth and responsive, enhancing its appeal as an endless game that's both exciting and challenging. The various unlockables serve as incentives that keep you hooked while its strikingly vibrant graphics add depth and dimension to this primarily 2D game.
In conclusion, Blocky Snake cunningly reimagines classic arcade gaming, creating a modern masterpiece that confidently straddles past nostalgia and contemporary charm. Its enjoyable premise coupled with its addictive gameplay solidifies its standing within successful hyper-casual titles.
If you love casual block or snake games with an arcade twist, Blocky Snake is sure to reel you in with its engaging gameplay mechanics and visually pleasing aesthetics. It's a modern spin on timeless fun - capturing the essence of arcade gaming while pushing boundaries within today's hyper-casual sphere.
What are the best online games?