Blocky Branches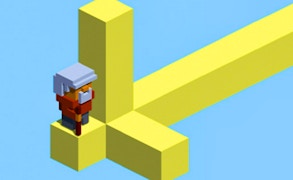 Blocky Branches
Step into the riveting world of Blocky Branches, an adrenaline-inducing new entry in the realm of arcade games. Perfect for those who revel in clicker games and block games, this hyper-casual gaming experience promises hours of unadulterated fun.
The game spins a captivating tale of survival, where your character must traverse dangerous, spinning branches. A mere tap on the screen sends these branches swirling, opening a path for your character to climb higher. The gameplay is elegantly simple yet strikingly profound, resting on the delicate balance between timing and courage.
In the vast ocean of Hyper Casual Games, Blocky Branches stands out as a beacon of entertainment. Every unlockable character adds a fresh layer of excitement and unpredictability to the game, keeping you glued to your screen. The thrill of climbing higher, collecting more coins, unlocking new characters – it's an exhilarating rush that keeps you coming back for more.
Apart from its addictive gameplay, Blocky Branches impresses with its vibrant graphics that add an extra dimension to this frenzied journey of survival. The block-generated environment is a visual delight that perfectly complements the fast-paced action.
To sum it up, Blocky Branches is not just another addition to the ever-growing list of fun games. It's an incredibly engaging arcade game with just the right amount of challenge to keep players entertained and intrigued. Filled with block-twirling fun and enthralling action, it's sure to keep you on your toes and your fingers tapping!
Join us on this thrilling journey through dizzying heights and swirling blocks in Blocky Branches – Your next favorite in arcade gaming!
What are the best online games?