Blocks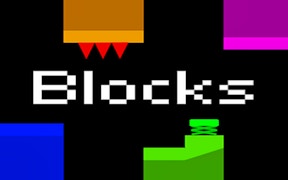 Blocks
For fans of block games, match 3 games, and mental workouts, the new game on the block quite literally is BLOCKS. This enigmatic entrant into the bustling world of brain games promises to deliver a refreshing twist to your usual gaming experience.
In BLOCKS, you'll find yourself faced with a grid cluttered with differently coloured cubes. The objective seems deceptively simple - align these blocks in straight lines, making them disappear until the grid is left empty. But that's where the real challenge begins. As you progress through the game's staggering 100 levels, each stage gets more complex and brain-twisting than the last.
BLOCKS isn't just a game; it's a cerebral expedition. If you're used to match 3 games where speed often trumps strategy, this puzzle game will flip that notion on its head. Here, every move matters and hasty decisions can quickly lead to a dead-end. It's not just about clearing blocks; it's about understanding patterns and finding the most effective path to victory.
The beauty of BLOCKS lies in its simplicity. The graphics are clean and minimalistic, letting your brain focus entirely on the puzzle solving element of gameplay. You won't find any distracting storylines or flashy animations here — just pure, undiluted mental gymnastics.
In conclusion, if you love pushing your cognitive abilities to their limit or if you've always had an affinity for block games or match 3 games, then BLOCKS is waiting for you. With its innovative mechanics and immersive gameplay, BLOCKS doesn't just occupy your screen — it occupies your mind. So gear up for an intriguing exercise in logic and strategy that hits all those sweet spots a true puzzle aficionado craves.
What are the best online games?