Blob Giant 3D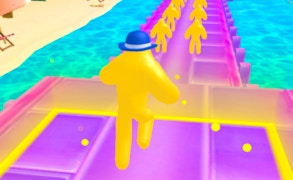 Blob Giant 3D
Welcome to the world of Blob Giant 3D, a refreshing addition to the running games genre, blending elements of Hyper Casual Games and Skill Games in a unique and exciting package.
Dive into an exhilarating journey with Blob Giant 3D as you rush through vibrant landscapes, touching jellies of the same color to grow your hero into a behemoth. This inventive mechanic adds a thrilling twist to the familiar running game genre, beckoning players into a realm where their quick reflexes and strategic thinking are tested.
The objective? To become as gigantic as possible before reaching the end of each level. The bigger you become, the higher your energy levels soar, enabling you to make a giant leap onto an inflatable cushion at the end of each stage. But hold onto your seats; this is where things get even more interesting.
In an action-packed finale worthy of any Skill Games, your teammates take flight on the other side of the cushion under your weight's reaction force. Their mission: reach for a floating treasure chest that holds enticing rewards.
What we love about Blob Giant 3D is its seamless blend of simplicity and sophistication - characteristic of top-tier Hyper Casual Games. You're always one touch away from transforming how your run will end – adding an edge-of-your-seat element that leaves players coming back for more.
In conclusion, Blob Giant 3D brings an energetic, engaging spin to running games in an aesthetically pleasing 3D environment. With its unique gameplay mechanics and compelling team dynamics, it stands above many offerings in hyper-casual gaming. Addictive, challenging and downright fun – Blob Giant 3D is not just another runner in the crowd; it's a trailblazer setting new standards for future running games!
What are the best online games?