Blast Out Battle Royale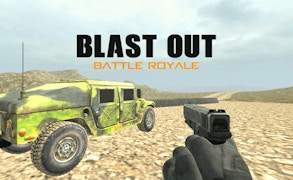 Blast Out Battle Royale
Description
Delve into the fierce world of Blast Out Battle Royale, an action-packed adventure arcade game. Traverse a sprawling map, seeking out powerful weaponry and vehicles to aid your mission. Your objective? To outgun all foes you encounter in this combative terrain. The key to victory lies in strategic combat and resourceful exploration.
How to Play
The game employs simple keyboard and mouse controls: WASD keys for movement, mouse for aiming and shooting, and E key for interacting with objects and vehicles. The prime motive? Survive by defeating all opponents. As the game progresses, weapon tiers increase, leading to more intense battles.
Tips and Tricks
The best way to secure victory is by utilizing your landscape effectively. Try high vantage points or concealed locations to catch enemies off guard. Make good use of your vehicle for fast travel or escape. Collect higher-tier weapons for greater combat advantage.
Features
Vast open-world map filled with weapons and vehicles.
Fierce battle mechanics with enhanced gunplay.
Competitive ranking system based on survival and kills.
A variety of landscapes offering multiple strategic options.
What are the best online games?
Tags