Blade Toss Clown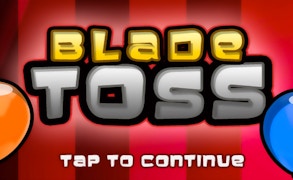 Blade Toss Clown
Description
Immerse yourself in a world of fun and thrill with Blade Toss Clown, an exhilarating blade-toss game. Here, your objective is to accurately cast blades at floating balloons while circumventing the rotating clown. Be careful not to hit the clown, or else he will turn grouchy! Experience high-octane excitement with every precise blade throw.
How to Play
Take control of the on-screen action by tilting your device to aim your blades at balloons. A single tap on the screen throws a knife at the targeted balloon. Avoid throwing knives at the clown as this will cause him to get annoyed. Pausing the game allows for tilt calibration to reset, enhancing accuracy.
Tips and Tricks
Aim for consistent accuracy when hitting balloons and avoiding the clown. When you pause the game, take advantage of the instant recalibration feature to improve your aiming precision. Throwing knives strategically can keep you in control without agitating the clown.
Features
Dazzling Graphics that immerses players into the game-play environment.
Captivating sounds and music that enhance engagement.
A user-friendly interface, designed for players of all ages.
What are the best online games?