Blackriver Mystery. Hidden Objects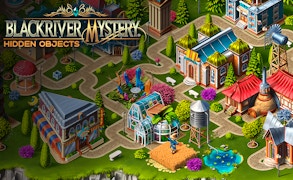 Blackriver Mystery. Hidden Objects
Step into the dimly lit corners of mystery with the latest sensation in adventure gaming, Blackriver Mystery. Hidden Objects. Designed to entrance the avid fans of hidden-object-games, this mesmerizing adventure plunges you right into the heart of an enigma, waiting to unfurl its secrets beneath your deft touch.
The game unveils the story of Black River town, a cryptic world enveloped in ruin and mystery. As a player, you are tasked with not just bringing back color to this greyed-out canvas but also piecing together the puzzle that is the town's past. This interpersonal scavenger hunt takes place amidst strikingly beautiful landscapes, turning your quest for hidden objects into a visually exhilarating experience.
An exciting facet of Blackriver Mystery. Hidden Objects is its multitude of mini-games embedded within larger gameplay. Fan favorites like three-in-a-row and wheel of fortune are smoothly incorporated to test your wit and agility at problem-solving, thereby enhancing your overall gaming experience.
The game further unfolds through encounters with terrifying anomalies and deadly confrontations with monsters. The plot spirals into a maze of conundrums that pushes you to exercise all your detective acumen and adventure gaming skills while tackling intricate puzzles.
In essence, this game caters brilliantly to gamers who crave an immersive narrative coupled with high-quality graphics and compelling gameplay dynamics. The thrill of uncovering hidden objects gives an authentic sense of being a hero on a mission to save a city.
To all aspiring detectives out there, luck may favor the brave but remember it's Black River town's destiny that lies in your hands! Are you up for this breathtaking journey?
What are the best online games?
Tags