Black Panther Mask Coloring Pages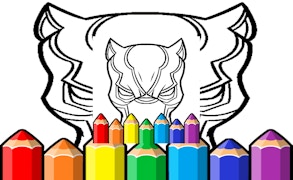 Black Panther Mask Coloring Pages
Description
Enter the vibrant world of coloring with our intuitive Black Panther Mask Coloring Pages game! Perfect for art enthusiasts and fans of the famed superhero, this game allows players to color stunning images of Black Panther masks. From a rich palette of colors to a range of brush sizes and effects, this game provides all the tools you need to express your creativity and create dazzling masterpieces.
How to play
The gameplay is straightforward and easy to understand. Simply select an image from the gallery. Then choose a color from the extensive color pallette and start coloring using different brush sizes and effects. You can undo or redo your actions. Once satisfied with your masterpiece you can save or print it.
Tips and Tricks
To make your artwork stand out, use different shades of the same color. Use bigger brush sizes for larger areas and small brush sizes for intricate details. Don't be afraid to mix and match colors, after all, creativity has no boundaries!
Features
A vast selection of Black Panther Mask images.
An extensive palette of colors.
Different brush sizes & effects.
Undo/Redo option.
Save & Print functionality.
What are the best online games?
Tags