Black and White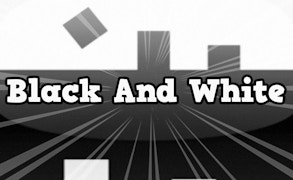 Black and White
Description
Welcome to Black And White, an addictive arcade game that promises endless fun and thrill. The objective is simple – jump across varying obstacles that come in your way. However, with its rhythmic pace and two-tone design, the game offers an exciting challenge for your reflexes. Your goal is not just to survive, but to reach the highest score possible!
How to play
Playing Black And White requires dexterity and quick thinking. Control your character's jump by clicking or tapping on the screen. The height of the jumps varies depending on how long you hold down before release. Your ability to adapt quickly to change will be crucial in progressing through this game as obstacles differ in size and speed. So time your jumps just right!
Tips and Tricks
Moving swiftly is crucial but remember not all blocks are of uniform height. Hence, timing your jumps impeccably will help you maintain momentum without crashing into a block. Practice frequently to improve your reflexes and remember—achieving high scores requires patience!
Features
This game comes with several noteworthy features:
Funky Soundtrack: An upbeat soundtrack keeps you engaged.
Sleek Design: Minimalistic black-and-white graphics add a trendy vibe.
Addictive Gameplay: Fast-paced action coupled with easy controls make it hard to put down.
What are the best online games?