Bitcoin Man Madness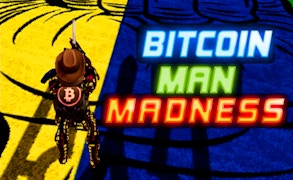 Bitcoin Man Madness
When it comes to gun games or battle games, few can capture the shimmering allure of the new crypto-gold age better than the breakout hit, Bitcoin Man Madness. In this electrifying realm where cryptocurrency reigns supreme, you're not just playing a game - you're diving headfirst into a tantalizing economy of risk and reward.
Bitcoin Man Madness puts you smack in the middle of an action-packed, sharpshooting world known as YawVerse. This isn't your typical monotonous landscape seen in most money games. YawVerse is a decentralized space where the might of Bitcoin stands tall against fiat currencies. The fluctuating battlefield paints a vivid picture, mirroring the pulsating heartbeat of market trends.
The gameplay is as gripping and heart-pounding as the relentless ups and downs of Bitcoin itself. Forget everything you thought knew about Crypto and Blockchain games, because Bitcoin Man Madness redefines them with each click of your mouse. It's a shooter-action game with elements borrowed from popular idle clicker games, blending fierce battles with a rewarding progression system.
Bitcoin Man Madness is more than just another game; it's an exciting experience for both cryptocurrency enthusiasts and action-game lovers alike. Whether you are invested in bitcoin or simply enjoy the thrill of high-paced battle games, Bitcoin Man Madness is sure to keep you captivated. It challenges your strategic skills, whilst offering the addictive charm of conventional money-making games.
The audacious binary ballet echoes across this digital dancefloor as each player's fate hinges on their strategic expertise. The fascinating fusion between gaming and cryptocurrency in Bitcoin Man Madness creates an extraordinary mesh that will resonate beyond its virtual boundaries - A radiant beacon in the new era of Crypto gaming.
What are the best online games?