Bingo World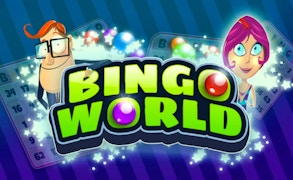 Bingo World
Immerse yourself in a world of non-stop excitement with Bingo World, a captivating blend of classic fun and modern innovation in the realm of arcade games. Elegantly re-imagined for the contemporary age, it's more than just your quintessential bingo experience. This alluring edition of bingo games saturates the senses and keeps you on the edge of your seat, as you navigate through an array of enthralling number challenges.
The heart-throbbing anticipation that encapsulates every moment is reminiscent of the traditional bingo hall thrill, rekindling fond memories while paving the way for a fresh wave of enthusiasm. It's a timeless number game that demands patience, requiring players to cautiously mark their numbers, nurturing their concentration and strategic thinking skills. Consequently, Bingo World becomes more than just a game; it morphs into an adventure that tests your wit as much as your luck.
Whether you're a die-hard bingo fan or a newcomer lured by the dazzling allure of number games, Bingo World has something for everyone. At its core, it's thrillingly simple – stay patient, mark your numbers and wait for that exhilarating moment to shout 'Bingo!'. But beneath this deceptively simple surface lies layers of complexity and depth to discover and master.
In conclusion, Bingo World offers an intoxicating mix of nostalgia and novelty that will appeal to both veteran gamers and newcomers alike. Its seamless blend of classic bingo elements with innovative twists transforms this time-honored game into an action-packed arcade experience that promises hours of captivating gameplay. So dive into Bingo World: reignite your love for traditional bingo games while discovering new horizons in number gaming.
What are the best online games?
Tags