Bikes Hill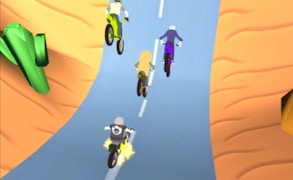 Bikes Hill
Feast your eyes on the exhilarating spectacle that is Bikes Hill, a thrilling entrant in the pantheon of motorcycle games. This adrenaline-infused 3D bike riding behemoth is not just about velocity, it's an all-around extravaganza of intense driving challenges and airborne feats. Once you get a taste of this, you might find your other dirt bike games gathering digital dust.
With Bikes Hill, every pedal stroke catapults you closer towards being crowned champion. You're not merely racing against ghostly time trials; you're pitted against a myriad of real-life players, making it a relentless encounter amidst driving games. And oh, the sweet taste of victory is not just about finishing first. It's also about the wealth you accumulate along the way - those precious coins. Their collection forms an integral part of your quest as they let you unlock an array of new bikes and characters.
The variety doesn't end there. Bikes Hill serves up a buffet of distinctive terrains to cater to any racer's appetite - each map presenting its own unique set of challenges and rewards. The game further narrows chasms between standard bike racing experiences and the sublime heights achievable with flying games. It effortlessly coaxes you to try gravity-defying jumps and flips, leaving you soaring with giddy excitement.
If your idea of fun involves burning rubber across changing landscapes while vying for pole positions, Bikes Hill will get your motor running. Its discernible blend of challenging motorcycle games, coin-collecting bonanzas seen in driving titles, and elements from high-flying exploits makes it increasingly irresistible. Peel away from the pack and embark on this thrilling ride that Bikes Hill propels you into.
What are the best online games?