Biker Stars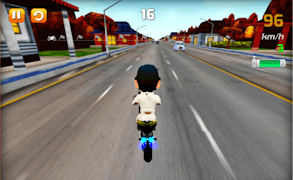 Biker Stars
Get ready to throttle up and experience the thrilling exhilaration of Biker Stars, a premier title in the world of motorcycle games that leaves competitors eating dust. Devilishly designed for our adrenaline junkies who have a penchant for dirt bike games and driving games, this game guarantees an immersive, tyre-squealing ride like no other.
One of the standout features of Biker Stars is its diversity in gameplay. With 8 meticulously designed maps waiting to be conquered, each offering different levels of challenges and visual delight, it sets a new standard for simulator games. Whether it's racing through the treacherous terrains or manoeuvring through the urban jungle, every motorcycle master will find something to satisfy their thirst for speed.
In terms of game modes, Biker Stars does not disappoint either. The 'Time Trial' mode will test your mettle against the menacing clock. In 'Endless' mode, you'll ride into infinity battling your own endurance, while 'Fighter' mode adds a twist to typical drifting games, allowing you to combat opponents in high-speed chases. Each mode requires quick reflexes, strategic planning, and just pure undistilled courage.
All these thrilling features propel Biker Stars into the stratosphere among motorbike fans and converts those uninitiated into avid bikers. Strap on your helmet and experience this turbo-charged world where victory is measured not only by speed but also by bravery and strategic prowess. Biker Stars stands as testament that not all heroes wear capes — some simply ride bikes!
In conclusion, if you're looking for heart-pounding excitement wrapped up in an immersive gaming experience then look no further than Biker Stars. This isn't just a game - it's a love letter to every biker's soul! So gear up and get ready for a ride that will take you beyond ordinary gaming!
What are the best online games?