Bike Stunt Master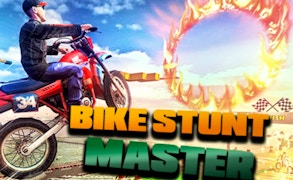 Bike Stunt Master
Immerse yourself in the daredevil world of high-speed motorcycle games and dirt bike games with Bike Stunt Master, a pinnacle of off-road racing adventure. Spice up your gaming experience and embrace the thrill as you navigate through impossible tracks in this intense driving game.
In the realm of racing games, where adrenaline-fuelled fun meets vicarious thrill, Bike Stunt Master stands out, offering a perfect blend of challenge and entertainment. The game stimulates the experience of real-life biking through its mastery over dynamics and physics. This isn't just another entry in the replete genre of Off-road games, it is a testament to all the mad skills motocross has to offer.
You're not just riding a bike, you're defying gravity, drifting through corners like you're tethered to a rocket in drifting games. The impossible tracks keep you on edge, turning every moment into an electrifying experience. You get to enjoy extreme hot wheels bikes with fantastic enhancements that make gameplay more exciting. With each successful stunt, you earn coins that can further be used for mind-blowing upgrades.
The difficulty level is unabashedly high, almost taunting; yet that's what makes Bike Stunt Master more addictive with every retry. The mantra here is not to give up but persist as fortune favors the brave in this tempestuous world of off-road biking! So brace yourself for nerve-wracking stunts and emerge as the undisputed champion.
Bike Stunt Master is indeed a rollercoaster ride for those who wish to taste danger while staying within their comfort zones. Among other motorcycle and dirt bike games out there, Bike Stunt Master secures its place on top by delivering an unparalleled blend of excitement and realism.
What are the best online games?