Bike Mania 2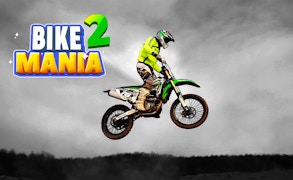 Bike Mania 2
Description
Bike Mania 2 brings back the excitement of the much-loved flash game era. With its precision-based gameplay, it requires you to navigate your bike over diverse terrains and obstacles. Packed with 20 nerve-wracking levels, each offering unique challenges, the game promises heaps of fun and a heavy dose of adrenaline. If you enjoy pushing your limits, Bike Mania 2 is sure to keep you hooked.
How to Play
The controls are simple, yet mastering them is a challenge. Use the arrow keys to control your bike's movement and balance. The right and left keys control acceleration and deceleration, while up and down work on balance. The game's objective is not just about speed, but also about maintaining stability on tricky pathways. You progress by successfully crossing obstacles without toppling over.
Tips and Tricks
Nailing the perfect balance is key in Bike Mania 2. Don't rush - speed isn't always an advantage. It's essential to study each obstacle carefully before attempting it. Use a gentle touch on the controls rather than going full throttle, especially on steeper slopes. Remember: patience and precision can make a world of difference.
Features
Addictive Gameplay: Its perfect blend of challenge and fun makes it hard to stop playing.
Plethora of Levels: With 20 distinct levels, boredom isn't an option.
Skill-Based Win: It tests not only your hand-eye coordination but also your strategic skills.
Flash Game Nostalgia: It harks back to the timeless era of flash games, serving a dose of nostalgia.
What are the best online games?