Bezo Alien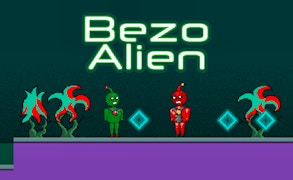 Bezo Alien
Description
In Bezo Alien, you become an intergalactic traveler navigating through a perilous alien world. This 2D adventure game is crafted around the thrilling journey of an extraterrestrial being, collecting precious blue cubes whilst dodging dangerous enemies and obstacles that cross your path. The game intensifies with each of the 8 progressively challenging levels, where the aim is to find and jump into the mystic loop hole.
How to play
The controls are easy to grasp. You use either the WASD keys or the Arrow keys for movement. To leap over obstacles or double-jump in mid-air, press the 'W' key or 'Up' arrow key twice consequently. Your goal is to collect all blue cubes while avoiding hazards, enemies, and jump through the loop hole to proceed to the subsequent level.
Tips and Tricks
To survive longer in Bezo Alien, always keep moving and utilize your double-jump for narrow escapes. Memorize enemy patterns and their spawn locations. Use this knowledge to strategically collect blue cubes while minimizing contact with enemies.
Features
Intriguing Sci-Fi Theme: Navigate an alien world filled with strange creatures and hazards.
Diverse Levels: Conquer varying levels that increase in difficulty
User-Friendly Controls: Effortlessly control your character using simple keys.
Action-Packed Gameplay: Collect items, dodge deadly threats and leap into teleportation holes for progressing levels.
What are the best online games?