Ben Car Jigsaw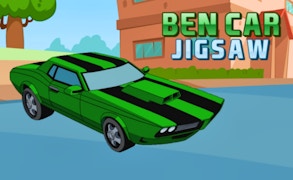 Ben Car Jigsaw
If you're on the hunt for the quintessential combination of vibrant, engaging games for kids and stimulating Jigsaw Puzzles, look no further! Ben Car Jigsaw is here to save the day with its perfect blend of fun and challenge. It is one of those free online games that will keep your kids entertained while enhancing their problem-solving skills.
This captivating game plucks a string from the beloved ben 10 games genre, adding a riveting twist with its car-themed jigsaw puzzles. The game offers 12 thrilling images of Ben's epic car adventures to choose from, instantly transporting players into a world of high-speed chases and extraterrestrial exploits.
Ranging from car games to jigsaw puzzles, Ben Car Jigsaw caters to gamers of all skill levels. Whether you're dipping your toes in the shallow end with the easy mode offering 25 pieces or you're diving headlong into complexity with the hard mode featuring a whopping 100 pieces—there's something here for everyone.
The medium mode with its 49 pieces provides an irresistible challenge for those trying to strike a balance between enjoyment and difficulty. Not only does this engaging game promise heaps of fun, but it also guarantees an exciting cognitive workout that could enhance memory, concentration and spatial reasoning skills.
In a nutshell, if you're scouting for something that hits all the right notes in terms of entertainment and brain flexing potential, consider giving Ben Car Jigsaw a whirl—it's not just another game; it's a colorful expedition into an exciting world where cars and puzzles intersect!
Pick your image, select your difficulty level, and let's get started on this spellbinding journey! Let Ben Car Jigsaw be your kid's go-to option among their favorite ben 10 games or car games—because who said learning can't be fun?
What are the best online games?