Bee Careful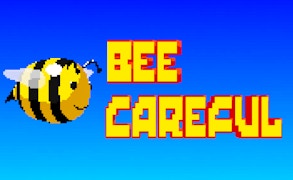 Bee Careful
Description
In Bee Careful, you're the wings of a brave bee fighting for survival. Navigate through perilous environments, overcoming various obstacles in your path. With its engaging gameplay and charming aesthetics, the game offers players a thrilling adventure as they dive into the life of this small yet determined hero. The fate of the world depends on your buzzing little wings, so be sure that you're up to the task.
How to play
Control your bee using keyboard arrow keys. Fly through different levels while avoiding dangerous threats like birds and spiders. Collect pollen and nectar along the way for points. Completing each level safely gets you to the next stage, enhancing game progression. The faster you complete levels, the higher your score!
Tips and Tricks
Avoid rushing into any level; observe first, strategize then take action. Picking up power-ups can provide temporary protection or speed boosts. Watch out for unique patterns of enemy movement and plan your path accordingly.
Features
Challenging levels with distinct environments.
Captivating arcade-style gameplay.
A variety of power-ups and collectibles.
An opportunity to set high scores for competitive play.
What are the best online games?