Beauties Pregnant Bffs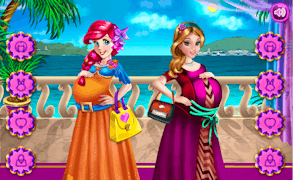 Beauties Pregnant Bffs
Prepare for an enchanting journey into the world of maternity with Beauties Pregnant Bffs, a delightful escapade designed especially for young ladies who love Games for Girls, aspiring moms, and fans of baby games.
This picturesque game, sprinkled with elements of dress up games, immerses players into a lively realm brimming with friendship, excitement and the joyous anticipation of motherhood. Amidst the giggles and intimate conversations, you help your pregnant buddies stay healthy and stylish - creating an unforgettable mix of responsibility and fun.
In Beauties Pregnant Bffs, gamers guide soon-to-be moms through their daily routines; ensuring they take their vitamins, eat nutritious meals, and even selecting the perfect belly tattoos! This innovative ingredient brings a charming hint of edginess to the game's tender ambience.
But that's not all - this delightful game also taps into your fashionista skills. In the dress up segment, players can explore a range of chic outfits for each expecting mom. Whether it's elegant maternity wear or comfy casual wear, every choice you make contributes to crafting their unique style!
The theme of friendship that runs strong in this game makes it more than just another in the genre of Hairdresser Games. Here, each decision exudes care and adds to the joy in their journey towards motherhood. As you thrust into this warm journey filled with laughter, health choices and style battles, these BFFs are sure to be happier than ever!
In summary, Beauties Pregnant Bffs is an endearing game that wonderfully blends elements of dress-up with nurturing gameplay. It's engaging storyline promotes healthy habits while stoking creativity through style choices – offering hours of enjoyable gaming experience.
What are the best online games?