Beach Day Spa Care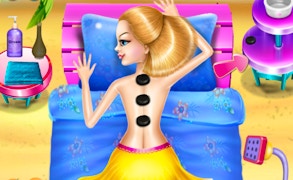 Beach Day Spa Care
Celebrate summer vibes with the sun-drenched "Beach Day Spa Care", a truly alluring title amongst games for girls. This vibrant and engaging adventure, combining the best elements of dress up games and makeup games, invites you to step into the sandy shoes of a young beach-goer seeking to enjoy a relaxing day by the sea.
As you take on your spa-therapist role in this compelling escapade, your task is to provide a rejuvenating spa facial to the girl, adding an intuitive skincare layer to the game. With countless natural spa ingredients at your disposal, you can learn about skincare while having fun. The attention to detail in this section is commendable, and it truly feels like stepping into a virtual spa.
Once you've accomplished making her feel refreshed at the spa, you get to switch gears as you dive headfirst into fashion world. This fabulous game bears all hallmarks of top-notch dress up games. You're given an impressive range of adorable outfits - from sun hats to beach skirts - to mix and match. The options are plentiful, with a rich palette of colors and styles on offer.
Moving on from fashion, "Beach Day Spa Care" also incorporates elements of quality makeup games. With an array of makeup shades and styles for different skin tones, it encourages creativity while promoting awareness about diversity.
In conclusion, "Beach Day Spa Care" beautifully blends restful spa mechanics with delightful dress-up gameplay and creative makeup experimentation. Its gorgeous graphics, intuitive controls, and educational content make it a must-play title among others in the realm of games for girls. Soak up the sun with "Beach Day Spa Care" today!
What are the best online games?