Beach Beauty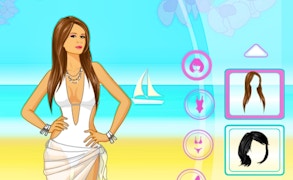 Beach Beauty
Welcome to our latest dive into the exciting world of kid's gaming, with a refreshing focus on the ever-popular genre of dress up games, specifically, Beach Beauty. This delightful gem is a colorful creation aimed squarely at our little fashionistas who are always on the lookout for enjoyable and engaging games for girls.
Ready for a sunny day at the beach? Beach Beauty, one of today's rising stars in the realm of dress up games, lets children channel their inner stylists as they dress up their character for an idyllic day under the sun. Our gamers can explore and utilize an impressive variety of clothing items, accessories, and hairstyles - the level of creativity and personalization available is truly remarkable!
A key element in this engaging game is its unique beach theme which provides a fresh twist to traditional makeup games. Instead of getting dolled up for prom or a party, players can have fun creating perfect outfits suitable for a sunny beach outing! Get your model beach-ready by choosing from an array of trendy swimsuits, breezy cover-ups, chic sunglasses, statement accessories, and cool hairstyles.
The heart and soul of Beach Beauty, though, lies in its simplicity. The streamlined gameplay focuses intently on dress-up with barely any distractions. This laser-focused theme not only makes it easy for younger girls to grasp but also offers them an outlet for their budding creativity and fashion sensibilities.
In conclusion, Beach Beauty impeccably combines elements from dress-up games and makeup games to offer an entertaining package that champions creativity. With its uncomplicated gameplay and vast selection to choose from, it is undoubtedly sure to keep any child engaged and inspire them towards fashion and design.
What are the best online games?