Battleships Pirates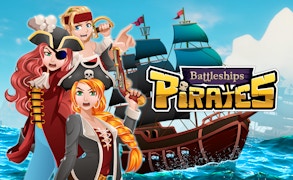 Battleships Pirates
Description
Join a crew of fearless female pirates in Battleships Pirates and set sail on high seas filled with thrilling adventures. Navigate through dangerous waters by destroying enemy fleets, and scour the sea for hidden riches. With each successful battle, enhance your formidable fleet. These intrepid sea heroes rely on your quick reflexes and strategic mindset as you seize the horizon.
How to Play
The game operates through a simple but engaging tap mechanism. To attack enemy vessels, tap on them swiftly and accurately. Destroying all enemy ships and discovering treasures earns you points to upgrade your fleet. Progress through the game by outsmarting your opponents, ensuring that your vessels remain intact while you decimate theirs.
Tips and Tricks
To get ahead in this game, it's essential to upgrade your vessels regularly. More power means taking down enemies more quickly. Be wary of subtle movements, they might signal an incoming attack. Master the art of dodging and take every opportunity to land critical hits on enemy ships.
Features
Engaging tap-based gameplay set in a vibrant pirate-themed world
Exciting battles against AI-controlled enemy vessels
Fleet upgrades for an enhanced gaming experience
A captivating quest for hidden treasures across the vast sea
What are the best online games?