Battle of the Battles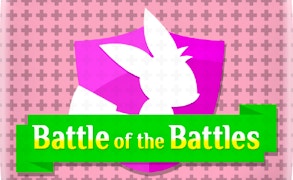 Battle of the Battles
Description
Engage in the thrilling Battle of the Battles, an ancient tournament set in an arcade-style strategy game! You'll be guiding Marin, from team the Braves, who is up against the cunning Renegades. Using strategic guesswork, you must try to figure out where the opposing players are hidden. Your decision will determine whether Marin progresses or the Renegade player has to start afresh!
How to play
The goal is simple - get Marin to the last box before the Renegades do. To achieve this, hide Marin in a box and guess where your opponents might be hiding. If you guess correctly, their player has to restart. The controls are intuitive and straightforward, making it easy even for beginners.
Tips and Tricks
Observation is key in Battle of the Battles. Pay attention to patterns and try to predict your opponents' moves. Remember, every right guess gives you a significant advantage. Don't forget, victory is a blend of sharp instincts and smart strategy!
Features
Intense Gameplay: Engrossing arcade-style strategy.
Puzzle-solving: Enhance your strategic thinking with unique puzzles.
User-Friendly Controls: Simple and easy-to-understand controls.
Vibrant Characters: Engage with interesting characters like Marin and the Renegades.
What are the best online games?
Tags