Battle Disc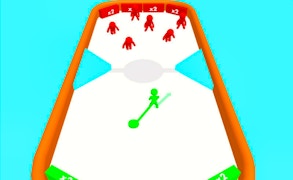 Battle Disc
Gaming enthusiasts, prepare to dive headfirst into the exhilarating world of arcade sports with Battle Disc. This game brilliantly meshes elements of ball games, skill games, and hockey games into a dynamic playground that's sure to keep you on your toes.
The essence of Battle Disc lies in the thrilling element of anticipation and strategy. The objective is straightforward – dispatch your disc with unerring precision towards your opponent's blocks, leaving them no room for recovery. But be warned, the game is not just about relentless offense. Tactics take the forefront as you also need to safeguard your own territory and prevent your opponents from launching an equally devastating counterattack.
What sets Battle Disc apart is its clever amalgamation of different genres. You'll find yourself drawing on tactics from traditional ball games, carefully setting up shots and capitalizing on scoring opportunities. Simultaneously, the game keeps you on edge with elements borrowed from popular skill games as every throw requires sound decision-making and sharp reflexes to ensure victory. Finally, fans of hockey games will appreciate the necessity for a strong defense against relentless puck assaults.
All these aspects come together to make a riveting gameplay experience that boasts an impressive degree of replayability. Whether you're searching for a quick adrenaline rush or an engrossing play session, Battle Disc has got you covered with its engaging gameplay mechanics, intuitive controls, and visually appealing interface.
In conclusion, no matter what genre of games ignites your passion: be it ball games, skill games or hockey games, Battle Disc confidently channels their spirit into one invigorating arcade extravaganza that will leave you asking for more.
What are the best online games?