Battalion Commander 2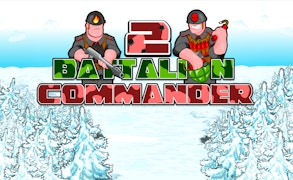 Battalion Commander 2
Description
In Battalion Commander 2, step into the boots of a skilled warrior, tasked with securing operations in the North. The game offers thrilling strategy and shooting-action, as you face an unidentified enemy, armed with powerful weaponry. Be ready to strategize and lead your battalion into battle, utilizing your guns, rockets, and grenades to claim victory.
How to play
You control your soldier with the mouse, leading your battalion towards enemy lines. Use left click to shoot and right-click for special attacks. The more enemies you defeat, the more soldiers join your ranks. Remember that smart strategy is as crucial as excellent aim in this game. Use the terrain to your advantage and be on guard for enemy ambushes.
Tips and Tricks
Stay on the move to avoid enemy bullets and make use of powerful weapons to keep enemies at bay. Also, ensure you boost your troops' morale by calling reinforcements whenever possible. Keep an eye out for power-ups, these can provide a significant advantage in tough situations.
Features
Action-Packed Gameplay: The game provides intense shooting action with an essential strategic component.
Diverse variety of weapons: From standard firearms to rockets and grenades, Battalion Commander 2 offers various ways to engage enemies.
In-Game Power-Ups: Collect power-ups during gameplay for additional boosts in battle.
Military Theme: Enjoy an intriguing war-setting that adds depth to the gaming experience.
What are the best online games?
Tags