Basketball Beans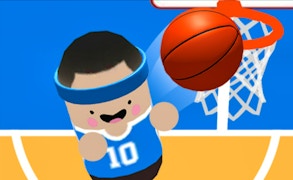 Basketball Beans
Step onto the digital hardwood with Basketball Beans, a game that proves to be an absolute treat for all aficionados of basketball games. Dedicated robustly to the classic game of basketball, it successfully captures the thrill and adrenaline rush of the real-world sport.
As a player in Basketball Beans, you can partake in high-octane basketball tournaments. Imagine yourself going head-to-head against your fierce opponents. We all know strategy is key in any sports game, and here you have the complete control. Use your strategy to command your team to pass, steal, shoot, or dunk. It's almost like orchestrating a symphony of slam dunks and steals!
What's more thrilling than landing a perfect three-pointer or executing a spectacular dunk? Each successful move on court not only gets you closer to victory but also rewards you generously. Harness these rewards to unlock an impressive array of basketballs and team uniforms. This is not just about winning games, but also about showing off your style!
Basketball Beans provides an immersive gaming experience that makes you feel like you're right in the middle of the action. Feel every thump of the ball on the court, hear every swish of the net as it captures your perfect shot. And for anyone who loves basketball games, Basketball Beans is sure to delight and entertain.
In conclusion, whether you're a rookie or seasoned pro when it comes to basketball, Basketball Beans offers a fun-filled virtual playground for everyone who savors this beloved sport!
What are the best online games?
Tags