Five Hoops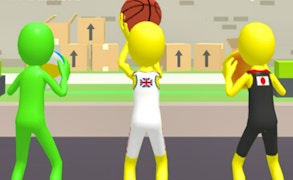 Five Hoops
Get ready for a distinctive, high-octane experience on the digital court with Five Hoops, an arcade-style basketball game that's set to redefine the genre of ball games and skill games. With an appealing premise and simple yet addictive gameplay, this gem in the realm of basketball games is bound to catch the attention of sports enthusiasts and casual gamers alike.
The premise is clear-cut: you're thrown into an intense competition where your primary goal is to outshine your opponents by landing your ball in the hoop before they do. The timing is crucial here; launch your ball at just the right moment and watch it sail through the air towards its destination. It's not just about getting the ball in the hoop—it's about getting it there faster than your rivals.
The beauty of Five Hoops isn't just in its competitive gameplay, but also in its personalization options. As you progress through this pulsating game, you unlock a plethora of different skins for your ball, each one as unique and vibrant as the last. These skins add a touch of individual flair to your game, making every match feel distinctly yours.
In conclusion, Five Hoops offers a fresh take on traditional basketball games while preserving their classic charm. Its striking balance between skill-based play and fun, coupled with its aesthetic appeal and competitive edge, sets it apart from other ball games on the market. Whether you're a seasoned gamer looking for a fun way to pass the time or someone who simply loves sports, Five Hoops comes highly recommended for both adrenaline-chasing excitement and casual enjoyment.
What are the best online games?