Basketball Stars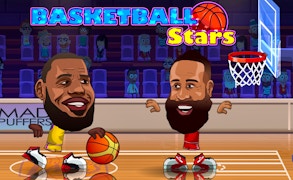 Basketball Stars
Not all of us of physically gifted or simply don't have the same love of sports as others do, but that's why there are video games. Sometimes there's the urge to play sports and games like Basketball Stars help with that. This visually comical 2D sports game has you playing as notable NBA players in one-on-one and two-on-two matches. You can play either against the AI or someone locally to show off all kinds of ballin' skill.
How to play Basketball Stars
Basketball Stars is a simple but engaging version of basketball that can get pretty competitive the more that you play. Both you and your friend can share the keyboard is you decide to play against each other. The controls are completely keyboard-based and are as follows:
Player 1 Controls:
W: Jump/Shoot
S: Defend
A: Move Left (tap twice to Dash)
D: Move Right (tap twice to Dash)
B: Steal
Z/V: Power Move
Player 2 Controls:
Up: Jump/Shoot
Down: Defend
Left: Move Left (tap twice to Dash)
Right: Move Right (tap twice to Dash)
L: Steal
K: Power Move
If you're playing two-on-two, you'll be assigned a player to control as marked by a glowing circle beneath him. The other player will be controlled by AI and will typically cover the area that the player-controlled character isn't in.
Basketball Stars Game Modes
Just like with real basketball, Basketball Stars have a number of different ways to play. Whether you want a long drawn-out basketball career or a short and sweet session, this game has you covered. Here are the currently available modes:
Tournament (One Player only): The campaign mode where you try to take your team to the top by winning against the others.
Random Match (One Player only): Play a random match against some AI players.
Training (One Player only): Practice running, shooting, defending, stealing, and dunking in an empty court.
2 Players: Play against someone locally in a one-on-one or two-on-two match.
Quick Match: Jump instantly into a match against an AI opponent with randomly selected Basketball Stars.
Game Details
Release Date: 2019-05 (published on GamePix, 2019-12-22)
Developer: Madpuffers
Platforms: Web Browser
Languages: English
Last Update: 2020-08-05
Basketball Stars Gameplay Trailer
FAQ
Where to play Basketball Stars
Basketball Stars is currently only available to play online through a Web Browser. To play it on your computer, follow these steps:
Go to GamePix.com and search for Basketball Star
Click on the title icon followed by the Play Now button and the game will start loading the Main Menu
From here, you can choose the number of players, and the Game Mode
Based on the mode you select, you'll be taken to the team screen where you can choose which team to play as, see their Power Moves, and select one-on-one or two-on-one
After you're done, click Play and you'll be taken to the Game Screen where the match will begin
Games similar to Basketball Stars
There are plenty of Sports Games on GamePix and Basketball Stars will highlight just how many Basketball games are available. Type Basketball into the search bar to find a huge selection while typing in Basketball Stars will yield the alternative Legends Basketball Stars game.
What are the best online games?