Basketball Legends 2020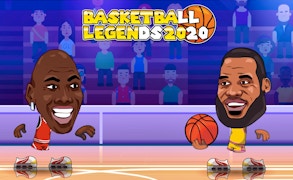 Basketball Legends 2020
Basketball is arguably one of the most accessible sports in the world which is pretty easy to set up on your own, but there are also games like Basketball Legends 2020 to help simulate the experience. Enter a sporting world full of large players with tiny bodies and even bigger hands. It makes for a humorous arrangement, but there's still plenty of competitiveness to be hand. It's a 2D versus basketball game where you can play against the computer or another player sharing your keyboard. It's made for quick games of basketball chaos complete with superpowers and a lot of teams to choose from and learn about.
About Basketball Legends 2020
It's safe to say that the average person doesn't know much about basketball, but we can appreciate the rules of the game. Even someone who has never seen or played basketball can start having fun quickly with a basketball video game. The rules are easy to figure out with or without training and even if you don't know them, you can enjoy the player proportions and the chaos of players running up and down the court chasing after the ball just for the chance to toss it into the basket. Like many sports movies will tell you, it's all about the game.
How to Play
Basketball Legends is designed in a way that you can play alongside another person and control multiple players. The controls are regulated to opposite sides of the keyboard to handle all the necessary actions.
Left Controls
W - Jump/Shoot
S - Pump/Block
A - Move Left (Double Tap to Dash)
D - Move Right (Double Tap to Dash)
Z - Ability
X - Steal/Shoot
Right Controls
Up Arrow - Jump/Shoot
Down Arrow - Pump/Block
Left Arrow - Move Left (Double Tap to Dash)
Right Arrow - Move Right (Double Tap to Dash)
K - Ability
L - Steal/Shoot
In every type of game, the goal is to score more baskets than the other team before the timer runs out. You can shoot the ball while jumping or from the ground. The pump and block are used to protect the ball and stop players from advancing, respectively. Use the steal action to try and take the ball from opposing players. Lastly, each player has an ability known as a Supershot that has offensive or defensive effects and needs to recharge between uses.
Tips and Tricks
The players move at a good pace but some of the movement can be a bit rigid so practice on your own or with someone else to get a feel for the effects. This is also helpful for getting a sense of range and collision so that you know how to use the steal effectively. Also, be sure to jump after the ball is in the air for a better chance to block and receive.
Basketball Legends 2020 Game Modes
There are multiple ways to play basketball in this game either by yourself or with somebody else.
Quick Match - Jump into a random game with the computer and randomized players.
1 Player - Play against computer-controlled players and teams.
Tournament (1P only) - The career mode where you try multiple teams of computer players in order to be the best.
Random Match (1P only) - Create a game against the computer where you can choose the teams and the number of players.
Training - Practice the controls with a random player on an empty court.
2 Player - Arrange a game with another person with teams of one or two players or play together against a computer team.
Game Details
Developer: Mad Puffers
Platforms: Web Browser (PC and mobile)
Languages: English
Gameplay Footage
FAQs
What is the newest Basketball Legends 2020 game?
Looking at the Mad Puffers game library, it appears that the 2020 version is still the latest entry in the series.
Who's the biggest basketball legend?
Many would say that Michael Jordan, who famously played for the Chicago Bulls, is the most well-known basketball legend.
Games similar to Basketball Legends 2020
From the title and the gameplay, this game fits into the Sports and Basketball Games categories on GamePix. Searching through them will reveal games like Toon Cup, The Bowling Club, Hoop Stars, and Swipy Basketball.
Basketball Legends 2020 belongs to Sports and it is often associated with 2 Player Games and Basketball Games. This game has received 5772 votes, 5153 positive ones and 619 negative ones and has an average score of 4.4.
It is a game played in landscape and it's playable on Desktop and Mobile on gamepix.com. This game has been published on 2020-12-10, and updated on 2020-12-10.
What are the best online games?