Baseball Hero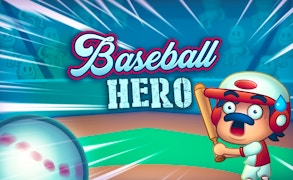 Baseball Hero
Some would say that baseball is one of the slowest sports that a person could play or watch which is why Baseball Hero tries to focus on the main action of it. You are an enthusiastic baseball player who just wants to show off their skills and maybe raise their batting average. You don't have to worry about scoring points or managing the rest of your teammates, you simply need to keep your eye on the ball. If you can do that then you're already halfway to hitting every ball that gets thrown at you. Still, you'll need to have fast reflexes to stay in the game.
About Baseball Hero
Hitting baseballs is something that people find time to do to relax and unwind since it feels good to hit it hard and far. This game takes that concept and boils it down to a short and contained experience that you can play casually when you've got time. There aren't tons of rules you need to keep in mind or a whole field of players that you need to track, it's just you, a bat, and the endless amount of balls (and other objects) being thrown at you. You can strike out, but you'll always be able to come back to the mound.
How to Play
Baseball Hero is a 2D sports game about hitting baseballs with tapping via the mouse. Use the cursor to move around the game screen and then click the Left Mouse Button to tap. When you tap, the player will swing his bat. The goal is to get the highest score possible by hitting as many balls as you can. If you get three strikes or get injured, then you're out and will need to start over from zero.
When the game starts, the unseen pitcher will start throwing towards the batter. When the ball enters the batter's range (represented by a highlighted circle) you just need to swing to hit it. If the ball goes past you or if you swing and miss, you'll get a strike. As you start hitting more balls, more circles will appear and you'll need to click outside them to change your batter's position. The highlighted circle shows where the next ball is going to go. The pitcher will also start throwing different kinds of pitches that will travel in varying patterns.

In addition to balls, the pitcher will also throw other objects. Sometimes they'll throw coins which you need to hit to collect. They'll also throw tomatoes that if hit will obscure part of the screen with tomato juice. More dangerous is that they'll throw bombs which if hit will explode and instantly end your run. Not swinging at non-balls will not count towards your strikes.

On the main menu, you can use your coins to change elements of the game. By going to the store, you can change what kind of balls will be thrown, your batter's helmet, uniform, and bat for the right amount of coins.
Tips and Tricks
You have to be able to react kind of fast to keep hitting balls, but you need to maintain your calm. Your biggest clue is the screen behind the batter which can indicate what will be thrown at you as well as what kind of pitches you can expect.

Game Details
Developer: GamePix
Platforms: Web Browser (PC and mobile)
Languages: English
FAQs
Is there an app version of Baseball Hero?
Though the game is well-suited for the mobile platform, it currently only exists as a Web Browser game. Still, you can play it on your mobile device if you open it in a browser on it.
Games similar to Baseball Hero
You can this casual sports game in the Baseball and Exclusive Games categories on GamePix. There are other titles with it like Baseball Pro, Super Baseball, Bouncy Dunk, and Squid Race.
What are the best online games?