Super Baseball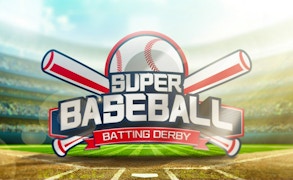 Super Baseball
Roll up your sleeves, step up to the plate, and prepare for an exhilarating experience in the world of ball games with the all-new Super Baseball. This game has been ingeniously designed for those ardent lovers of baseball games, offering a unique simulation that perfectly emulates the thrill, tension, and strategic thought process involved in a real-life baseball match.
The canvas upon which this masterpiece is painted is marked by its spectacular simplicity. This is not just any baseball game; it's Super Baseball - a batting game that deftly tests your timing and skill. The game's most notable feature is its batting system. Hit the ball at precisely the right moment and watch as it soars into the skyline, sending an electrifying rush through your veins as you land a satisfying homerun!
The difficulty level in this stimulating skill game advances gradually, resulting in an increasingly fast ball that bounces unpredictably off the pitcher's mound. The question then isn't if you can hit the ball; it's if you can adapt quickly enough to hit the sweet spot consistently under mounting pressure. This subtle layer of complexity makes Super Baseball not just about muscle memory but challenges players to sharpen their reflexes and think on their feet.
In conclusion, Super Baseball is so much more than a typical baseball gaming experience; it takes ball games to new heights of excitement with its immersive gameplay and progressive difficulty curve. Whether you're an aspiring Batter eager to improve your skills or a casual gamer looking for some high-score-chasing fun, Super Baseball provides endless enjoyment for all kinds of players. The real challenge lies not just in hitting homers but also in overcoming adversities that push towards personal growth amidst adversity.
Pick up your bat today, swing at the perfect moment and join us on this unforgettable ride through virtual sporting glory!
What are the best online games?