Balloonaa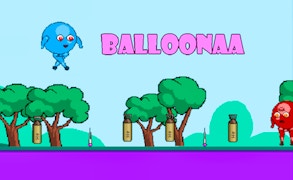 Balloonaa
Description
In Balloonaa, you step into the shoes of a unique character–a buoyant balloon boy. Your mission is to navigate through 8 challenging 2D platformer levels, gather helium gas canisters and make your way to the exit door, all while dodging various deadly obstacles like enemy balloons, pins, spikes, and ground saws.
How to play
Control your balloon boy using the "WASD" or "Arrow" keys. Double jump is a vital maneuver in this game, achieved by pressing the "W" or "Up" arrow key twice in succession. As you progress through the levels, they become increasingly more difficult, requiring quick thinking and precise control.
Tips and Tricks
Momentum is crucial in Balloonaa. Use it to your advantage while jumping between platforms and avoiding obstacles. Furthermore, always be on the lookout for helium gas canisters as these not only increase your score but also give you a temporary boost in speed.
Features
Unique gameplay: The main character is a balloon boy, providing a fresh twist on standard platformer mechanics.
Moving obstacles: Dynamic hazards like spikes and saws keep the game exciting.
Evolving Difficulty: Challenges ramp up as players progress, keeping them on their toes at all times.
Detailed Design: Enjoy a visually appealing environment with well-designed levels filled with risks and rewards.
What are the best online games?