Ball Down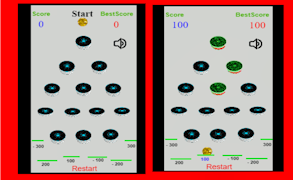 Ball Down
Description
Experience the thrilling ride of gravity with Ball Down. This is a high stakes arcade game where you guide a ball through a series of challenging obstacles, aiming to land it in scoring zones. Each successful drop will increase your score. However, beware! Landing anywhere else will deduct your hard-earned points. Ready for this adrenaline-fueled descent?
How to play
Ball Down is incredibly easy to pick up. Use your mouse or touch controls to steer the ball left or right on your screen, avoiding obstacles and aiming for score zones. Your progression and final score will rely on accuracy and quick reflexes. With each level, the challenges become increasingly difficult.
Tips and Tricks
To master Ball Down, you need to find the balance between speed and control. Rushing might lead you to non-scoring zones, reducing your points drastically. Practice is key, so don't get discouraged if you're not an instant pro!
Features
Addictive hyper-casual gameplay that captures your attention instantly.
An escalating difficulty that keeps players engaged and challenged.
Slick design and pleasing graphics making the game visually appealing.
Motion-based controls that are intuitive and easy to grasp but hard to master.
A dynamic scoring system that adds an extra layer of strategy and suspense.
What are the best online games?