Backflip Dive 3D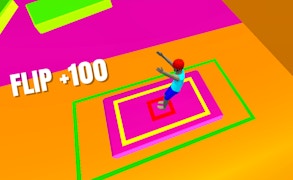 Backflip Dive 3D
Engage your senses with the heart-stopping excitement of Backflip Dive 3D, the latest sensation to grace the world of Sports genre in gymnastics games. This highly immersive, skill-based experience brilliantly bridges the gap between simulation and hyper-casual gaming, dishing out a daring blend of high-speed flips and breath-taking heights that will leave you tantalizingly on edge.
The game presents a unique opportunity to test your agility, balance, and quick-thinking, hence carving out its niche in skill games. It's not just about nailing the perfect backflip - it's about navigating a thrilling ascent to an intimidating height, then timing your leap into a series of gymnastic moves that must end in an elegant dive. An incorrect flip could lead to a terrifying tumble with severe consequences.
Backflip Dive 3D is a testament to the sheer joy that comes from defying gravity, delivered in gleaming 3D graphics that capture every moment of this exhilarating journey. From the ramp's pressure-inducing height to the picturesque view from above and finally the satisfying ripples as you dive into the pool – every detail is beautifully brought to life.
The game presents gamers with an addictive challenge – master tricky maneuvers while managing extreme heights. It's an exciting addition to hyper-casual games – requiring speed, precision, and nerves of steel. Whether you're a seasoned gamer or you seek casual entertainment, Backflip Dive 3D's fast-paced gameplay guarantees thrilling moments of pure adrenaline rush.
This review would be incomplete without mentioning its easy-to-use controls, fitting sound effects, and performance readiness for mobile devices. All those factors contribute to making Backflip Dive 3D an irresistible gem in gymnastics games genre.
If you want a game that challenges your skills while providing endless fun, then grab your trampolines for Backflip Dive 3D, where each dive is a leap towards exciting new heights.
What are the best online games?