Back From Wonderful Vacation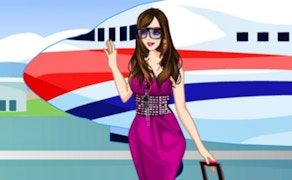 Back From Wonderful Vacation
Welcome to our review of the lovely kids' game, Back From Wonderful Vacation, a delightful addition to the realm of dress up games and fashion games, tailored uniquely for young girls. This colourful gem is more than just a game; it's an interactive platform that encourages creativity and fashion prowess in its players.
Our protagonist here is Samantha, a stylish girl who's back from a stellar summer vacation, filled with fun times and memorable getaways. But now, it's time for her to return home and she needs your help! This interesting narrative sets a captivating backdrop to this game that lies comfortably among the top Games for Girls.
The primary objective is simple yet engaging: create an adorable yet comfortable 'flight home' attire for Samantha. It's not just about picking pretty clothes though; players must harmonize style with comfort, teaching them the essentials of practical fashion. As an important part of dress up games, it tests your imagination and pushes your creativity.
What makes Back From Wonderful Vacation stand out in the world of fashion games? It's all about inspirations! After spending her vacation thinking about cute outfits, Samantha is feeling uninspired- making you her only hope to design something captivating. With an array of clothing options at your disposal, this game puts the reigns in your hands.
In summary, Back From Wonderful Vacation is more than just any other dress-up game; it's a creative adventure that nurtures young minds while offering an entertaining gameplay experience. While catering primarily to kids, its intricate design elements are sure to capture adults' attention too, making it a fantastic family entertainment option among fashion games.
What are the best online games?