Baby Taylor Perfect Halloween Party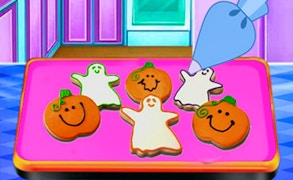 Baby Taylor Perfect Halloween Party
Immerse yourself in the enchanting world of Baby Taylor Perfect Halloween Party, a delightful fusion of games for kids, games for girls, dress-up games, and cooking themes. This game is an absolute treat to play and explore, as it conjures up the joyous spirit of Halloween and infuses it with learning and creativity.
Engagingly designed as an educational yet entertaining game, Baby Taylor Perfect Halloween Party seamlessly combines the exhilarating elements of games for girls, including dress-up and cooking games. It's like a magical cookbook where little chefs can enjoy cooking Halloween treats while learning about different ingredients. The fun doesn't stop there; players also have the chance to explore their stylistic skills in picking up some spooktacular costumes for their adorable characters.
From deciding on what costumes Taylor and her friends will wear to concocting yummy Halloween food, every twist and turn in this game is full of surprises. These enticing features make it one of the standout games for kids. It thrives on encouraging creativity among players by letting them design the party hall. With each creation becoming a kaleidoscope of colors, patterns, and styles; it's an artist's dream playground.
A significant highlight of Baby Taylor Perfect Halloween Party is its focus on teamwork and collaboration. As you set out on shopping expeditions and cooking sessions with Taylor's teacher Doris and her friends, you learn valuable lessons about cooperation and decision-making.
Furthermore, parents will appreciate how this game threads the needle between being entertaining and subtly educational. Apart from being one of the coveted dress-up games, Baby Taylor Perfect Halloween Party also serves up additional value by enhancing children's cognitive abilities via interactive play.
In conclusion, if you're hunting for a sweet spot between learning resources and entertainment modes that your children will love; don't overlook Baby Taylor Perfect Halloween Party! From delightful dress-up sessions to exciting cooking endeavors – it promises an unforgettable journey!
What are the best online games?