Baby Fashion Tailor Shop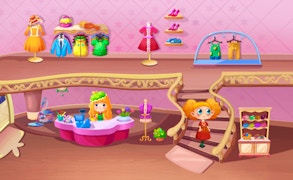 Baby Fashion Tailor Shop
Welcome to the whimsical world of Baby Fashion Tailor Shop, a one-of-a-kind gaming experience tailored specifically for our junior fashion-forward crowd. This charming game sweeps you into the captivating role of a young fashion tailor, crafting masterpieces for customers with a discerning eye for style.
One of the wonderful things about Baby Fashion Tailor Shop is how it encourages and nurtures creativity. Do you find yourself drawn to the enticing world of fashion games? Are you always thinking about different and unique outfit combinations? Well, this might just be the perfect playland for your fertile imagination! Whether you are on a delightful adventure for games for girls or looking to hone your styling skills with some engaging dress up games, Baby Fashion Tailor Shop has got you covered!
The game welcomes you with a palette of colorful designs, thrilling projects, and enthusiastic customers eager to wear your latest creation. You're not only an ordinary tailor but also an influencer who's shaping the trends in this digital fashion cosmos. The dress in the shop window isn't to your liking? Not a problem in Baby Fashion Tailor Shop! Here, originality reigns supreme, and every design can be revolutionized at your whim.
In conclusion, Baby Fashion Tailor Shop isn't just another addition to the long list of dress up games. It's an immersive venture where each player becomes an integral part of this vibrant fashion sphere. It doesn't just cater to those seeking games for girls, but rather beckons anyone with a flair for design and an affinity for playing dress-up. So put on your designing cap because at Baby Fashion Tailor Shop, the world is your runway!
What are the best online games?