Baby Audrey's Appendectomy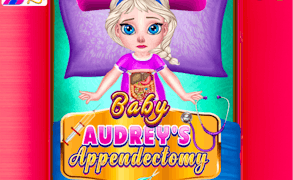 Baby Audrey's Appendectomy
In the enchanting world of kids' games, Baby Audrey's Appendectomy takes center stage as an absolute charmer. This game beautifully blends the elements of baby games, games for girls, and operation games into one delightful package. It's a sunbeam of joy, splashing its golden light on the exciting virtual journey of our darlings Emily and Belle.
The game unfolds during a humorous and lively weekend, capturing the essence of light-hearted fun. Baby Audrey's Appendectomy fills your screen with bright yellow hues that echo through Emily and Belle's favorite outfits. It's a visual feast, reflecting the heartiness of a lazy Sunday morning, invigorating players with its radiant energy.
The game is not just about fashion; it also introduces players to the thrilling world of medical science. As part of this journey, young surgeons get to assist in Baby Audrey's appendectomy. The operation part is a masterstroke; it's a unique way to educate young minds about biology while ensuring they are entertained.
The true strength of Baby Audrey's Appendectomy lies in its engaging gameplay. Helping Emily and Belle choose their outfits requires creativity and fashion sense, thus nurturing these skills in young gamers. But it's not all about style; players also need logical reasoning while performing the operation, leading to an enriching mix that makes this game standout among other baby games.
In conclusion, Baby Audrey's Appendectomy is an impressive addition to the world of games for girls. Its blend of fashion-forward fun with medical intrigue makes it a game worth trying for every kid who loves adventure., making their gaming time educational yet delightfully enjoyable.
What are the best online games?