Awesome Conquest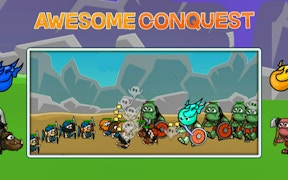 Awesome Conquest
Plunge into the enthralling realm of Awesome Conquest, a riveting entry in the genre of strategy and battle games. This addictive spectacle envelops you in a thrilling narrative that is as engaging as it is immersive. Your land has been forcibly taken over by the reds, and it's your duty to assemble an unbeatable army and retake what is rightfully yours.
This game fuses elements of building games, war games, and knight games, culminating in an adrenaline-pumping kind of gameplay. You have one objective: Reclaim your kingdom from the aggressive invaders. But victory means more than just forming a military; it involves strategic thinking and resource management.
Essential to your success in Awesome Conquest is the incremental development of your city - a key aspect reminiscent of classic city building games. Primarily, increase your mining capability to earn more cash – the lifeblood of any thriving empire. Furthermore, build up your temple, invoking the divine intervention of Acts of God - quite possibly your saving grace in those nail-biting moments.
What sets Awesome Conquest apart is its focus on strategy as well as its addition of a management aspect, making it fall under intriguing Management Games. Building up your military isn't just about amassing warriors; it needs careful resource allocation, strategic training, and wise deployment.
The clock is ticking: How swiftly can you liberate your land from the tyrannical reds? The challenge awaits in this heart-stopping meld of strategy, battle, and building gameplay that defines Awesome Conquest. Whether you're a knight at heart or an aspiring city planner, this game promises hours of fun-filled conquests.
What are the best online games?