Avoid the Germs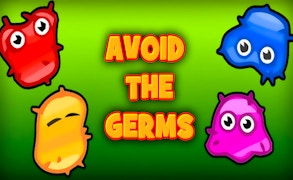 Avoid the Germs
Description
In Avoid the Germs, prepare for a thrilling race against time as you navigate through a microscopic world packed with germs. The game offers limitless fun in this fast-paced, arcade-style adventure that challenges players to collect gunk while avoiding pesky germs. The power-ups can give you an edge in your quest, and the captivating 2D graphics will keep your eyes glued to the screen. Designed mainly for kids and babies, it is incredibly engaging and fun.
How to Play
The controls are delightfully simple. Just use your device's touch or mouse to direct your character around the screen, avoiding germs and collecting gunk. Beware of the cunning germs that become faster as you progress. Remember to make good use of power-ups, which can be crucial for survival in tricky situations. The game doesn't end until you get hit by a germ!
Tips and Tricks
To excel at this game, ensure you're always moving and making sharp turns to dodge the germs. Keep an eye out for speedy power-ups as they can provide a great boost when things get tough. Moreover, don't forget that collected gunk can provide extra points, so aim to gather as much as possible!
Features
Endless gameplay: The game continues until you lose, offering unlimited fun!
Easy controls: Simple enough even for babies.
Cool sound effects: Immersive audio that enhances gameplay.
Cute animations: Quirky and vibrant animations that keep players engaged.
What are the best online games?
Tags