ATM Cash Deposit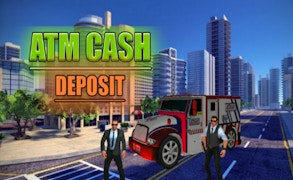 ATM Cash Deposit
Prepare yourselves, gaming enthusiasts, for a riveting journey through the urban jungle in the latest adventure game phenomenon - ATM Cash Deposit. This versatile amalgamation of money games, simulator games, and driving games will have you immersed in its exciting gameplay and will find a spot in your collection of Addictive Games.
The plot is simple yet thrilling – roam around the city and deposit cash in various ATMs. But don't mistake simplicity for monotony. ATM Cash Deposit turns the mundane into extraordinary, proving that even the simplest tasks can provide unrivaled entertainment when presented creatively.
The gameplay relies heavily on WASD and Arrow Keys Movement for both your character and car. Adventure spirit coupled with a finance twist is not something you encounter often in money games. The Left Shift enables your player to run – a feature that ramps up both the excitement and intensity. The option to crouch with 'C' offers an engaging dynamic, adding a layer of stealth to this adventurous money game.
The ability to engage in combat using the Left Mouse Click intensifies the thrill factor. Imagine yourself dashing through city landscapes, manoeuvring between buildings, dodging pedestrians while driving towards ATMs - it's an adrenaline rush like no other! As an adventure-packed member of simulator games, this unique feature transforms ATM Cash Deposit from merely being a driving game into an action-packed extravaganza.
In conclusion, if you're seeking excitement and thrill neatly packed into one exceptional gaming experience, ATM Cash Deposit is a must-try. Its clever mix of different gaming genres makes it one of the most engagingly unique Addictive Games on today's market. So buckle up and embark on this extraordinary money depositing adventure!
What are the best online games?