Art Jumble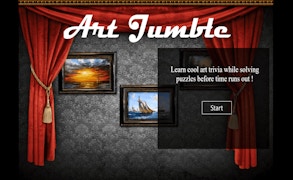 Art Jumble
Description
Art Jumble is an intellectually stimulating puzzle game designed for young minds. Kids can discover the world of art by piecing together famous art pieces from around the globe. Not only it enhances problem-solving skills, but it also gives players a taste of art history. The game is perfectly crafted to boost brain power and foster love for art appreciation in children.
How to play
The game begins with a jumbled artwork. Kids need to drag and place each piece to its correct place to form the artwork. With every successful completion, they will be rewarded with interesting facts about that particular art piece and its origin. The level of difficulty increases as you progress, providing a continuous challenge for kids.
Tips and Tricks
Always start solving the puzzle from the corners and edges, as they are easier to identify. Pay attention to the small details on the pieces and try to match them with those in the incomplete picture. Make use of the given information about each artwork: this could be a clue to solving the jigsaw faster.
Features
Educational: Learn about famous artworks and their history.
Puzzle-based Gameplay: Enhances problem-solving skills.
Aesthetically Pleasing: Beautifully designed art pieces that attract kids.
Increasing Difficulty: More complex puzzles as you progress through levels.
Innovative: A unique blend of learning and fun!
What are the best online games?