Army Vehicles Memory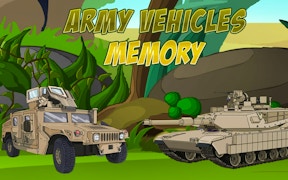 Army Vehicles Memory
Step into an intriguing world of strategic decision making and mental gymnastics with Army Vehicles Memory, a fresh and engaging take on classic memory games. The game is your ultimate destination if you are on the hunt for challenging brain games that stimulate your cognitive skills while providing a riveting gaming experience.
The game resides at the exciting crossroads of military and memory games, featuring an impressive amalgamation of both genres. In a delightful twist to conventional truck games, here you've got to remember where the army trucks are hidden! It begins with flipping tiles – revealing captivating images of army vehicles while testing the sharpness of your memory as you try to match them in pairs.
The gameplay boasts a seamless blend of challenge and fun, asking players to complete the game in as few moves as possible. With 4 fascinating levels, each one more provocative than the last, this addictive game keeps you hooked from start to finish. The interactive design, with easy clicks or taps on the squares, makes the game accessible for all.
The real magic of Army Vehicles Memory, however, lies not just in its enticing gameplay, but also in its capacity to foster concentration. It's an ideal tool for those looking to improve their focus through interactive mediums.
In essence, Army Vehicles Memory is not just another online game; it's a tantalizing journey that exercises your brain muscles while satiating your appetite for entertainment. If you're ready for a turbocharged memory testing adventure packed with military-grade trucks and vehicles, then gear up and dive into the exhilarating world of Army Vehicles Memory today!
What are the best online games?