Arcade Golf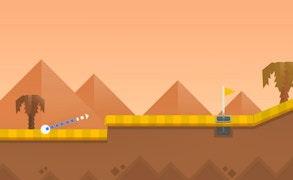 Arcade Golf
Dive into the engaging world of Arcade Golf, a captivating offering in the realm of ball games and golf games. This minimalist, flat-design styled game opens up a vibrant world where precision and patience collide, offering a rich gaming experience that's enjoyable yet challenging.
The beauty of Arcade Golf lies not only in its simplicity but also in its ability to fully immerse gamers into the strategic depths of golf. The aim is to sink the ball into each hole across ten diverse holes with as few strokes as possible, providing a test of skill that will captivate golf enthusiasts and novices alike.
This game stands out in a crowded field of golf games, with its stunningly minimalist design setting it apart from more 'traditional' sports games. Its clean aesthetics are perfectly balanced alongside strategic gameplay that's reminiscent of hours spent on the green.
Gamers will appreciate the delicate balance between challenge and fun offered by Arcade Golf. The levels increase in difficulty, sharpening your precision skills as you guide your ball through tricky terrains and unexpected course obstacles. Despite these challenges, each success brings a sense of exhilaration that only adds to the game's appeal.
In conclusion, Arcade Golf strikes just the right balance with its blend of simplistic design and layered strategy. Whether you're a seasoned golfer or someone who's looking for an intriguing entry point into ball games, this game makes every stroke count. Delve into this immersive golfing experience which serves up unmatched entertainment right at your fingertips.
What are the best online games?
Tags